Presented at the Milan Motor Show 1969, the MV Agusta 750 S will replace the MV 600 four cylinders released in 1966. Deliberately sporty, the 750 S will be produced from 1971 to 1976. The power announced at the time of 65 hp and 225 km/h.
It is a collector's must. The first models of 1971 and 72 with the front drum brake being the most sought after of collectors.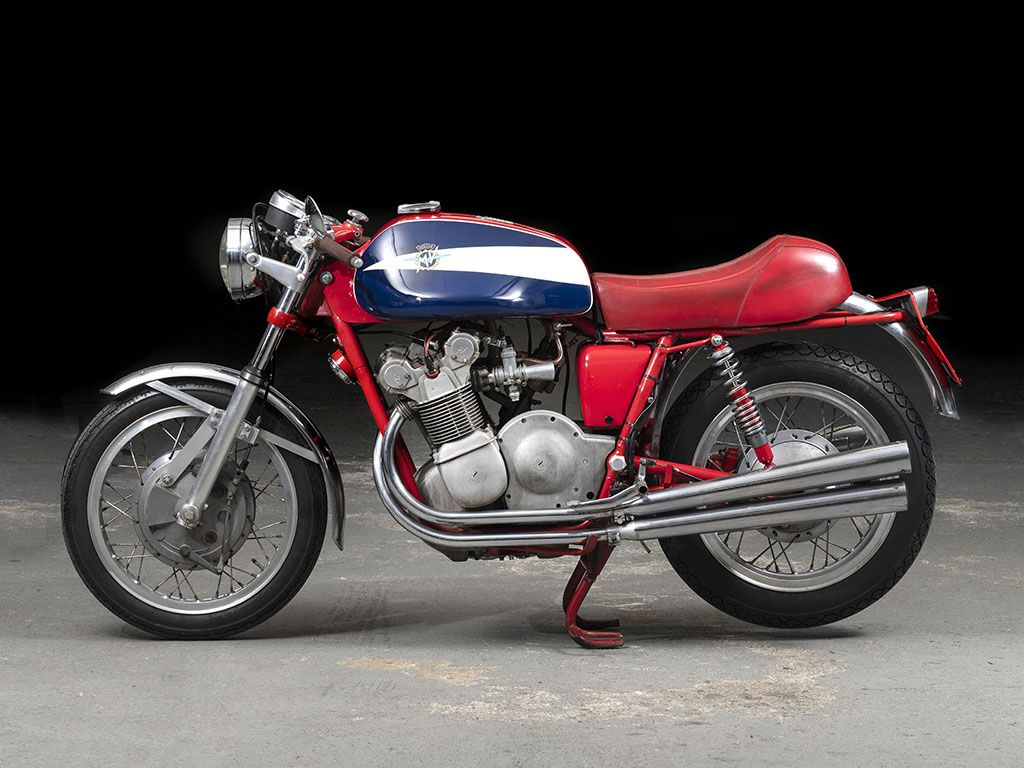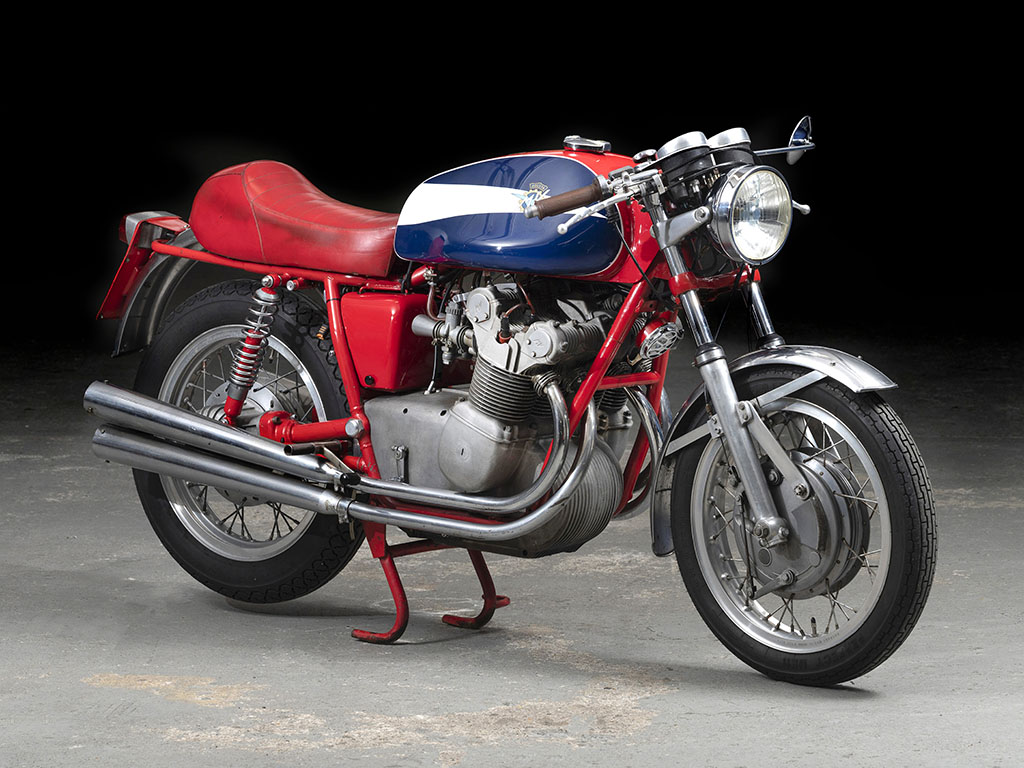 The 750 S presented here is one of those « Early » models from 1972.
It is « Matching Numbers », that is to say that the engine and frame numbers correspond well to the model and the vintage 1972.
However, for specialist collectors even if this model is rare and sought after, many have been restored, even over-restored.
The graal being to find this complete mythical model, original and in its period juice from 50 years ago.
This is the case with the MV 750 S that we offer you.
After consulting the 4-cylinder MV bible, (Ian Falloon's excellent book: MV Agusta 4 cylinders) we found all the details of the first models on this exceptional motorcycle.
• 4 Dell'Orto UB 24 carburetors
• Curved cylinder head outer cart (straight after 04/09/72)
• Véglia tower counter
• Tommaselli handebars, Matador Levers
• Aprilla contactors
• Dashboard without indicator lights (model 71/72)
• Jantes Borani WM3 X 18
• 24 l steel tank, lever closure in the center. Top of the tank red, dark blue sides, white arrow pointing on the front (1st model)
• Rectangular rear light (1st model)
• Red seat not containing the "Emmery" on the rear (1st model)*
• Front and rear mudguard stainless steel (1st model)
• Lateral fiber covers (1st model)
Frame number: MV4C75 * 0130 *
Engine number: * 214 0144 *
According to Ian Falloon's book, (Page 95) the 1st series (September 1st, 1971 to September 1st, 1972 ends with N ° * 214 – 0160 *).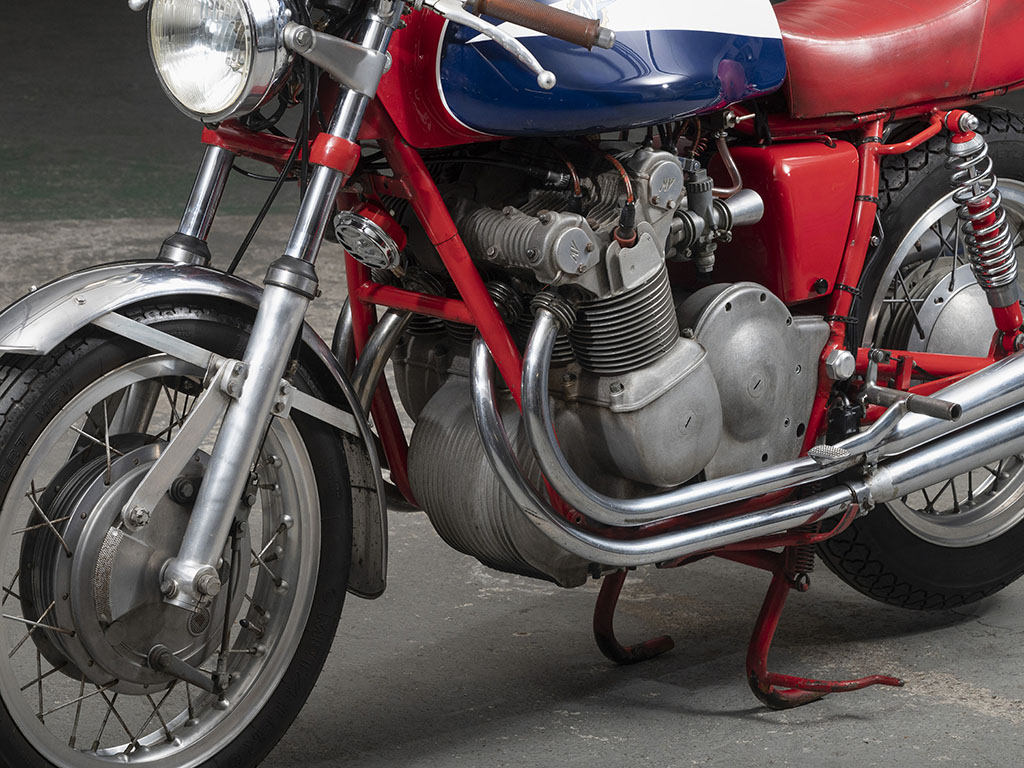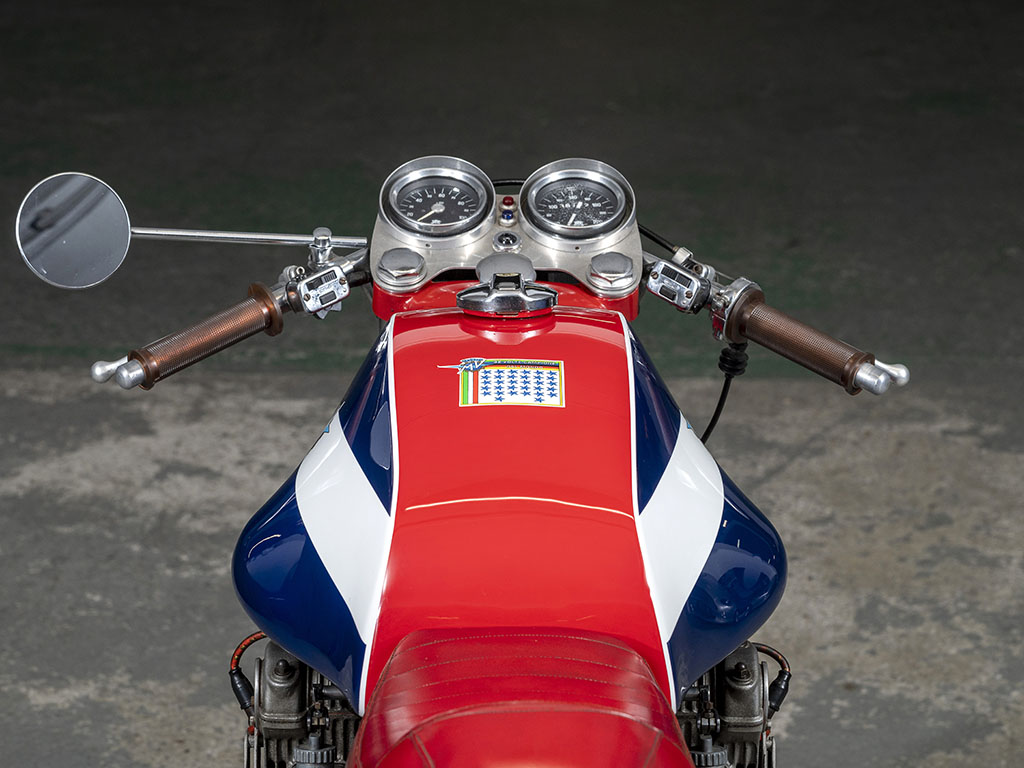 The MV 750 S we are proposing has never been restored.
Purchased new in Italy at the beginning of 1972, it will be bought by a Frenchman and will remain in France.
It works perfectly and has French traffic documents.
This rare motorcycle in this original configuration not restored is available and visible in France (Paris).
Info and price on request.
Would you like more information?